Hilton Bogotá Corferias
A sólo 15 minutos del Aeropuerto El Dorado, justo en el corazón de Bogotá, es el lugar perfecto para generar conexiones estratégicas y deleitar su paladar. Su servicio personalizado, magníficos espacios y diseño inspirador anticipa todas las necesidades tanto para un viajero de negocios como para grandes grupos. Único hotel ubicado dentro del Distrito de Ferias, Eventos y Convenciones de Bogotá.
Habitaciones y suites
Amplias y modernas habitaciones con hermosas vistas de la ciudad y la montaña. Decoración inspirada en la Leyenda del Dorado y la Naturaleza Colombiana. Disfrute de aire acondicionado, calefacción, ventanas insonorizadas de piso a techo desde cualquiera de nuestras 410 habitaciones y suites.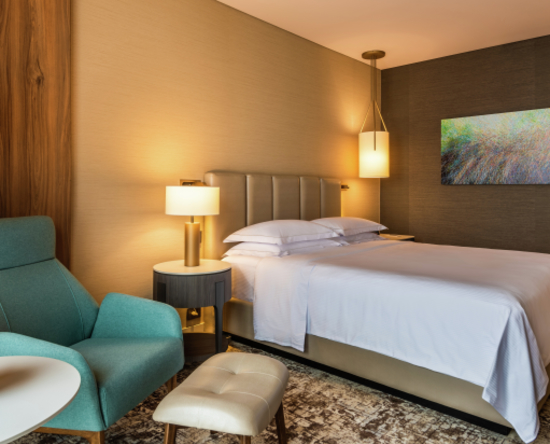 Habitaciones Deluxe
Habitación con cama king o dos camas dobles queen
Cafetera, HDTV 50 pulgadas
Espacio de trabajo
MÁS INFORMACIÓN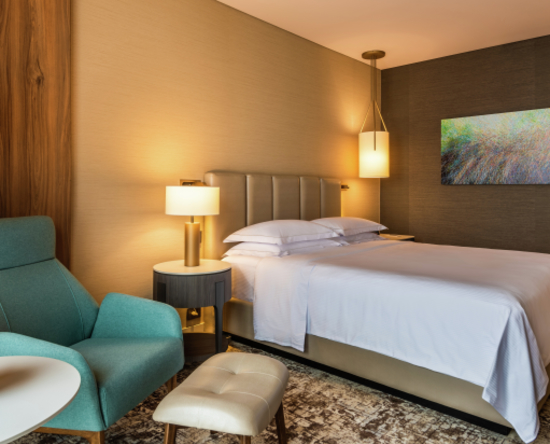 Habitaciones Deluxe
Nuestras habitaciones cuentan con 32m², ventanas de piso a techo y una decoración natural. Déjese complacer por las comodidades que incluyen un televisor  de alta definición de 50", menú de almohadas, aire acondicionado, sistema de calefacción y  Wi-Fi. Servicio de Room Service disponible 24/7.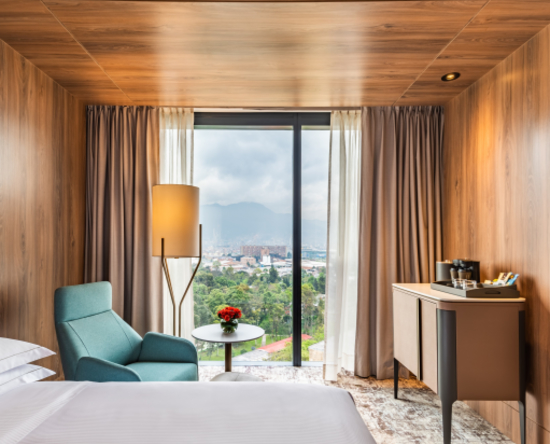 Habitaciones Executive
Acceso al Executive Lounge
Piso con vistas exclusivas de la ciudad
Amenidades únicas
MÁS INFORMACIÓN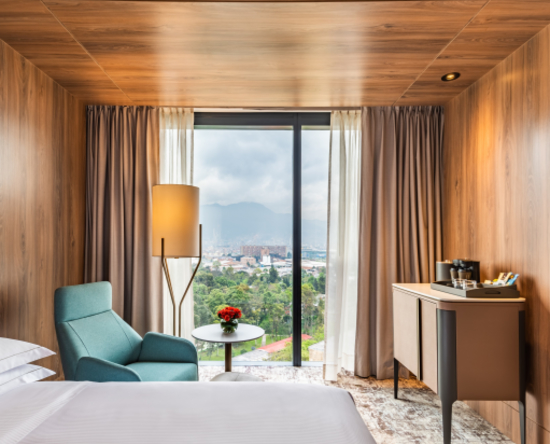 Habitaciones Executive
Manténgase productivo en una de nuestras 72 modernas habitaciones ejecutivas con  amenidades mejoradas y una hermosa vista panorámica de la ciudad o del Santuario de  Monserrate. Disfrute su estadía en nuestro exclusivo Executive Lounge donde podrá  deleitarse con un variado desayuno, bebidas refrescantes, tragos, pasabocas y servicio  privado de check-in / out.
Suites
Hermosas suites desde 64m2
Espacios independientes
Decoración única
MÁS INFORMACIÓN
Suites
Hilton Bogotá Corferias cuenta con 27 modernas suites desde 64m² donde usted podrá  disfrutar de amplios espacios, sala de estar separada y acceso al Executive Lounge. Elija  nuestra Suite Presidencial, este amplio espacio lleno de sofisticación y elegancia cuenta  con una gran sala de estar, área de cócteles y tres ambientes adicionales.
Restaurantes y bares
Déjese deslumbrar por la mejor gastronomía de la ciudad. Hilton Bogotá Corferias ofrece diversas opciones gastronómicas para todos los gustos, desde tradicionales platillos italianos, pizza en horno de piedra hasta una moderna y auténtica parrilla con todo el sabor latino.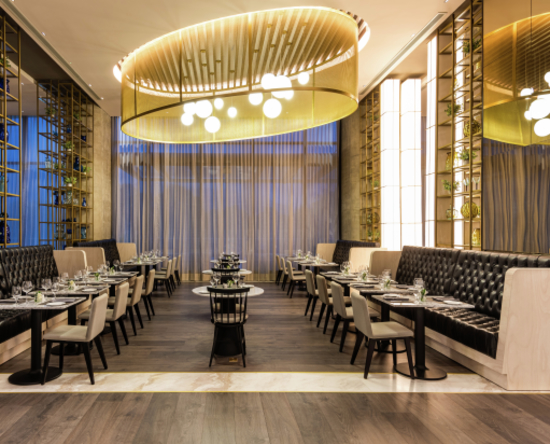 Oka Grill House
Parrilla al carbón
Sabores auténticos de Colombia
Terraza al aire libre
MÁS INFORMACIÓN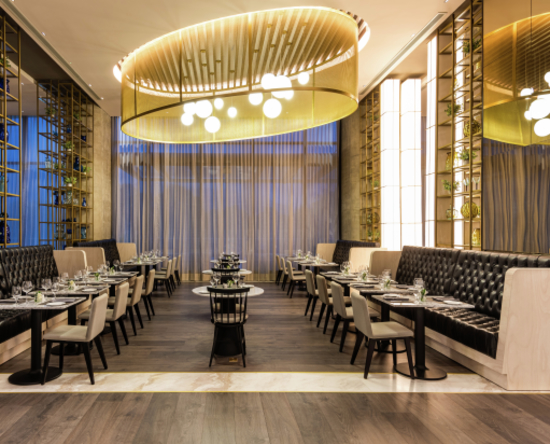 Oka Grill House
Oka Grill House es una parrilla al carbón atrevida y contemporánea que hace un homenaje a la tradición culinaria de Colombia, reflejando la versatilidad y el placer de ingredientes locales en preparaciones internacionales. Disfrute de un ambiente moderno con una cocina abierta, amplia terraza al aire libre y decoración única inspirada en la naturaleza colombiana y la Leyenda del Dorado. 
Bon Market and Bar
Grab & Go
Gastronomía italiana
Top restaurantes TripAdvisor
MÁS INFORMACIÓN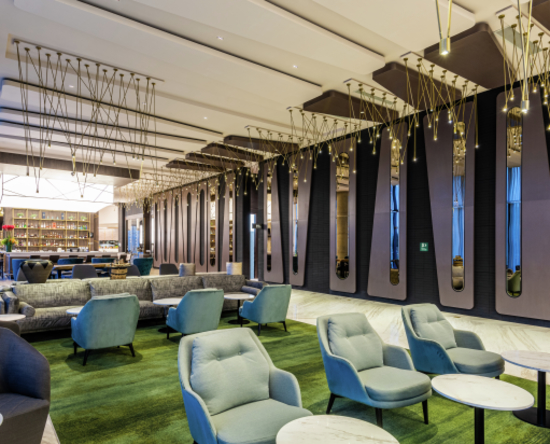 Four Eleven Bar
Ambiente atrevido y elegante
Coctelería de autor
Terraza al aire libre
MÁS INFORMACIÓN
Reuniones y eventos
Ocho innovadoras salas de reuniones  convenientemente ubicadas en el mismo  nivel, cada una de ellas acceso a nuestra  terraza con una hermosa vista la montaña.
Características del hotel
Amplias habitaciones con sistema de calefacción y aire acondicionado

Espacio para trabajar con WiFi de alta velocidad
Moderno gimnasio con equipamiento de cardio y pesas
Refrescante piscina cubierta, sauna, jacuzzi y servicio de masajes disponible
Restaurante Oka Grill House, una parrilla que resalta la cocina colombiana
Deléitese con Bon Market and Bar y sus pizzas preparadas al horno
Coctelería de autor en el enérgico ambiente de Four Eleven Bar
Operador Hotelero Pactia Corferias S.A.S.
Transporte
Desde El Aeropuerto Internacional El Dorado, Bogotá, Colombia:
Tome en el Aeropuerto un taxi en Llegadas Internacionales (en dirección sudoeste) hacia Av. El Dorado. Continúe hacia Ac. 26/Av. El Dorado. Tome la salida a Carrera 40 desde Av. El Dorado. Siga por Cra. 44a y Ac. 24/Av La Esperanza.
Distancia desde el aeropuerto: 10 km
Tiempo promedio en automóvil: 15 minutos
Tarifa en taxi: 10,00 USD
 
Aspectos destacados del hotel
Ubicado dentro de Corferias
Conectado a Ágora Centro de Convenciones
A sólo 15 min del Aeropuerto
Acceso a principales vías
Centro de negocios
Atracciones
Corferias Recinto Ferial - 0 km
Ágora Bogotá Centro de Convenciones - 50 m
Museo del Oro - 3,7 km
Barrio colonial la Candelaria - 4,1 km
Cerro de Monserrate - 4,7 km
Centro Comercial Gran Estación – 5,8 km
Museo Botero - 6 km
Movistar Arena - 6,1 km
Estadio El Campin - 6,1 km
Andrés DC, Andrés Carne de Res - 10,6 km
Catedral de Sal de Zipaquirá - 44 km
Políticas
Estacionamiento: Disponible
Estacionamiento con servicio de valet: Disponible con costo adicional
Check-in: 15:00 h
Check-out: 12:00 h
Se permiten mascotas permitidas

Depósito: $50,00
Peso máximo: 34 kg

RNT 63818
Que ésta sea la mejor estadía de su vida
*El acceso estándar a WiFi es gratuito. El WiFi Premium tiene un costo adicional.El acceso a WiFi en las salas de reuniones y en los hoteles que cobran un cargo por uso de resort no es gratuito.
*El acceso estándar a WiFi es gratuito. El WiFi Premium tiene un costo adicional.El acceso a WiFi en las salas de reuniones y en los hoteles que cobran un cargo por uso de resort no es gratuito.
Hilton Bogotá Corferias
Carrera 37 # 24 - 29, Corferias Bogotá, Colombia, 111321